Introduction
The purpose of this section is to provide the list of steps that needed to be followed to install ReferralNet agent .
Staging And Production Installers
Installer is built against staging and production environment. Download the installer as required and install the application on your system.
Staging environment:
Installer for integrations in the test or UAT environments.
All web services are pointed to the Staging server.
Installer name : StagingReferralNetAgent-<version>-<operating system>.-installer.<dmg|exe|run>
Production environment:
Installer for integrations in the production environments.
All web services are pointed to the production server.
Installer name : ReferralNetAgent-<version>-<operating system>.-installer.<dmg|exe|run>
System requirements
1. Operating systems
ReferralNet agent could be installed on multiple types of target environments.
Disk space: It requires at least 2GB free disk space. You will require more free space depending on additional archival of data etc. As a rule of thumb, you should plan to allocate 2GB to 5GB of disk space for logging, archival and repository.
Memory: At least 1 GB memory is required; however, more than 3 GB is recommended.
2. Ports and protocols
ReferralNet agent requires below list of hosts and ports to be available or accessible for proper setup.
3. Browser compatibility
ReferralNet agent administration application can be accessed through different browsers.
4. Access privileges
RNA installation needs to run under admin privileges to ensure that the installation process could make necessary run time changes.
5. Connectivity
RNA installation and usage requires that the system remains connected to internet to perform necessary software download and secured message delivery process.
6. Environment variable Setting
Operating system
Environment variable
Value
Windows
Path

%SystemRoot%\system32

%SYSTEMROOT%\system32\WindowsPowerShell\v1.0\

%JAVA_HOME%bin
Pre-installation checklist
Before installing the ReferralNet agent all the following checks needs to be performed to prevent any installation surprises.
Verify that all system requirements documented above are set correctly.

Have a valid admin ReferralNet account to perform basic configuration during installation process.
Installation process
To run the installer , right click on the installer downloaded and open it. Click Next
2. Provide the location where the application has to be installed.
Configure Office agent adress (IP address /DNS server name. This shoud be the external
address ).By default current machine IP address is considered, verify and update it if this
is different from external IP.
• Proxy Configuration: User needs to check the Proxy Server checkbox provide details to
install the ReferralNet Installer in environment regulated with proxy server. And User
should provide proxy related information by entering proxy server IP address and port
including authentication credentials(If proxy server is enabled with password)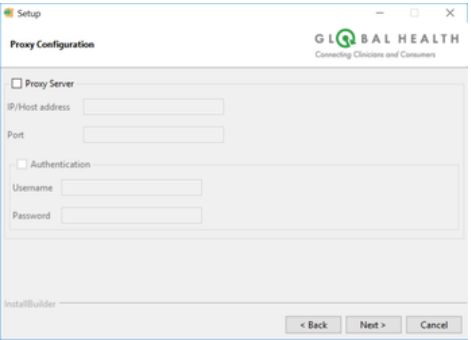 Note: As the ReferralNet installer is not having the capability to change the proxy server
settings from the UI or adminapp so if User wants to change the proxy settings
then an Upgrade Installer should be installed on top of already installed installer. User
should provide or update credentials or proxy server address and port in the Proxy
Configuration page when the Upgrade Installer is executed and then move forward with
installation
3. License Agreement is displayed as shown . Use the link provided to read the terms and conditions.
Select - I understand and accept the ReferralNet terms and conditions and click Next.

4. Click on Install , application will be installed in the directory as provided in the Step
Default installation location
For Mac : ReferralNet Agent will be installed in Applications
For Windows: ReferralNet Agent will be installed in C:\ Program Files ( for Windows 32-bit ) and C:\ Program Files(x86) ( for Windows 64-bit )
5. The agent is successfully installed on the system. On click of Finish, the installer is navigated to the wizard page.
Troubleshooting
If the application aborts during installation, then the installer will provide you the location of the log files which can be referred for further assistance.
The installer logs are generally found in :
Log Info
For Windows:C:\Users\<LoggedIn user>\Appdata\Local\Temp\<Installer Name>.log
For Mac : \tmp\<Installer Name>.log